http://espn.go.com/action/freeskiing/blog/_/post/7152748/custom-ski-trend-moves-north&asd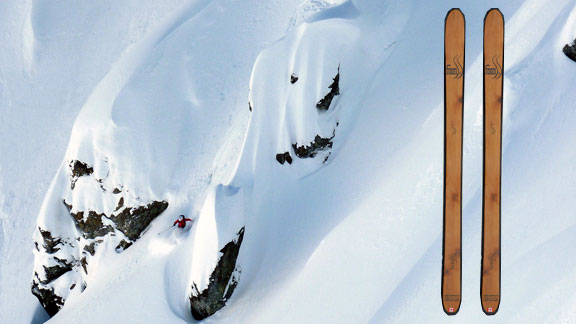 John ChiltonLisa Korthals shredding on Foon Skis in the Birkenhead Valley, BC.
The custom ski business has been growing in recent years, with upstarts like Colorado's Folsom Custom and Wagner Custom and Jackson Hole's Igneous Skis. The trend has extended north to Canada now too. In what was originally a way to build his ultimate ski has turned into a custom ski building business for Johnny "Foon" Chilton, a colleague of 90s ski stars Trevor Peterson and Eric Pehota with dozens of first descents to his name in BC's Coast Mountains. In two years, Foon Skis, based in Chilton's Pemberton, BC, workshop, has built a cult following, especially with hard-charging Whistler locals. Between his two full time, seasonal jobs -- driving a groomer at Whistler Blackcomb and building mountain bike trails near Pemberton -- Chilton handcrafts 40 pairs of planks a year, made from wood salvaged from Whistler.
How did you get into building your own skis?

I was a sponsored skier for 15 years, most recently with Head/Tyrolia. Over the years I found I couldn't find the exact ski I wanted, even though Head brought me on board to help design their big mountain skis. I like a ridiculously stiff ski and you can't get that off the shelf. I realized the only way I was going to find it was to make it myself. Before I was a pro skier I was a cabinetmaker and fine woodworker, so I had the skills.
Where did the name of your signature ski, the Tyfoon, come from?

Ty is my son's name and Foon is my nickname.
What inspired the design of the skis?

Surfing was a big inspiration for the skis. My buddy Trevor [Peterson] was into surfing. When the ski season ended we'd go climbing and he'd go surfing. We thought he was nuts. But he saw the correlation. There's a lot of crossover with float and carving. I think some of how surfers buy their boards is going to rub off too. Anyone who is into surfing would never buy a factory board. They get them custom built for their ability, weight, style and the waves they surf. I believe that skiers will start to think the same way.
How long does it take to make a pair of Tyfoons?

The first pair took me a month to make. Now I can make two pairs in about a week, though I don't make them one at a time. I usually have three or four on the go.
How does the customization process work?

You'll tell me where you like to ride, what type of snow you like to ski, your weight and height: This is the melting pot to figuring out how much flex you need. The core of the ski is the important part when it comes to adjusting the flex. I take a blank core and start working it to create the specific flex I'm going for.
What materials do you use?

I use douglas fir for the core and western red cedar for the topsheet. There's also a sheet of carbon fiber to add strength. I used to get my wood from local sources, but now I'm salvaging it raw from the ski hill. I've partnered with Whistler-Blackcomb and they're letting me harvest blown downs or trees cut building the Peak-to-Peak lift line. The shape I use is normal camber underfoot, a soft rocker in the tail and a long smooth rocker in the tip.